SEPARATION OF NEUTRAL AROMATICS ON HALO PFP, C18 AND PHENYL-HEXYL
HALO by AMT
Application n°23-N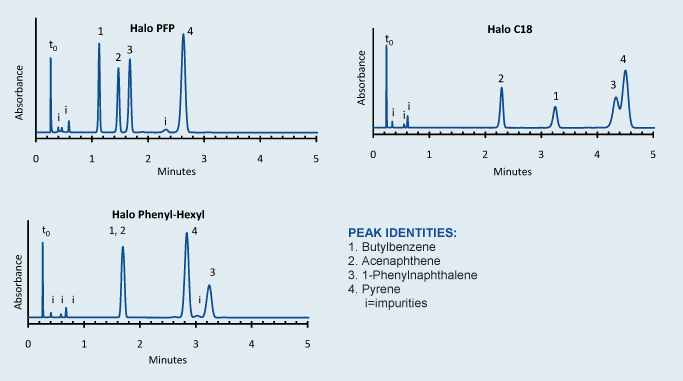 TEST CONDITIONS:
Column: 4.6 x 50 mm, HALO PFP, C18, Phenyl-Hexyl
Part Numbers: 92814-409,-402,-406, resp.
Mobile Phase: 30/70-water/methanol
Flow Rate: 2.0 mL/min.
Pressure: approximately 250 Bar
Temperature: 40 °C
Detection: UV 254 nm, VWD
Injection Volume: 1.0 μL
Sample Solvent: methanol
Response Time: 0.02 sec.
Flow Cell: 2.5 μL semi-micro
LC System: Shimadzu Prominence UFLC XR
Extra column volume: ~14 μL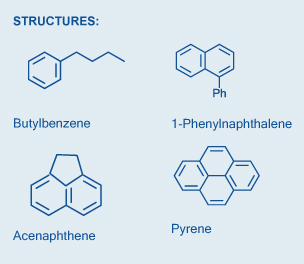 The separation of non-polar aromatic compounds on these three Halo bonded phases under the same conditions show differences in selectivity that can be utilized in optimizing difficult separations.