SEPARATION OF STRUCTURALLY SIMILAR STEROIDS ON HALO C18 AND PFP
HALO by AMT
Application n°047-STR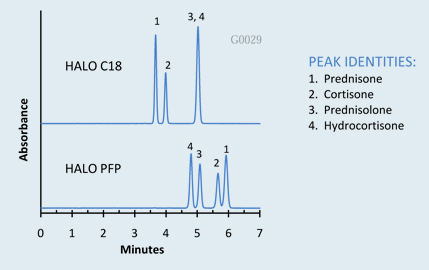 TEST CONDITIONS:
Columns: 4.6 x 100 mm, HALO C18
4.6 x 100 mm, HALO PFP
Part Numbers: C18, 92814-602
PFP, 92814-609
Mobile Phase: 50/50: water/methanol
Flow Rate: 1.0 mL/min.
Pressure: About 230 Bar
Temperature: 35°C
Detection: UV 240 nm, VWD
Injection Volume: 0.5 μL
Sample Solvent: 80% methanol in water
Response Time: 0.02 sec.
Flow Cell: 2.5 μL semi-micro
LC System: Shimadzu Prominence UFLC XR
ECV: ~14 μL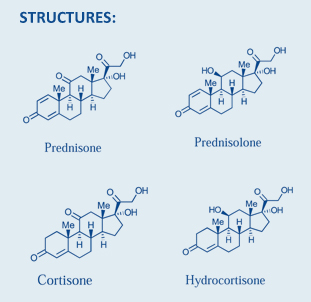 The unique selectivity of HALO PFP is useful in the separation of the closely related steroids prednisolone and hydrocortisone. The electron-deficient ring structure of the perfluorophenyl group aids in separating compounds through
pi-pi interactions with the sample.