SEPARATION OF NEONICOTINOIDS ON HALO 2.7 µm C18
HALO by AMT
Application n°092-PS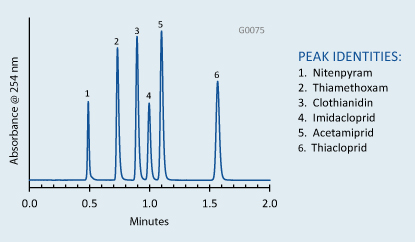 TEST CONDITIONS:
Column: 3.0 x 100 mm, HALO C18, 2.7 μm
Part Number: 92813-602
Mobile Phase: 70/30: A/B
A= 0.1% Formic acid in water
B= Acetonitrile
Flow Rate: 0.8 mL/min.
Pressure: 252 Bar
Temperature: 35°C
Detection: UV 254 nm, VWD
Injection Volume: 2.0 μL
Sample Solvent: 50/50: Water/acetonitrile
Response Time: 0.02 sec.
Flow Cell: 2.5 μL semi-micro
LC System: Shimadzu Prominence UFLC XR
ECV: ~14 μL
Neonicotinoids are systemic insect neurotoxins that have recently been in the news, since this class of pesticides may have negative effects on bees. This application note shows a rapid separation of six neonicotinoids using a Fused-Core, 2.7 μm, HALO C18 column. This superficially porous packing allows high
resolution at moderate back pressures.