SEPARATION OF STEROID HORMONES AND HORMONE CONJUGATES ON HALO C18
HALO by AMT
Application n°142-STR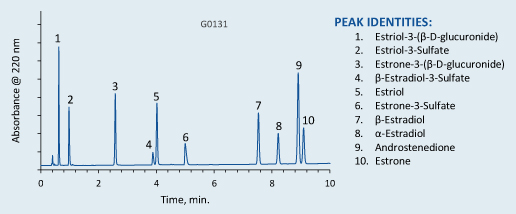 TEST CONDITIONS:
Column: HALO C18, 2.1 x 100 mm, 2.7 μm
Part Number: 92812-602
A= 10 mM phosphate buffer, (pH=7)
B= acetonitrile
Gradient:
Time (min.) %B
0.0 20
10.0 43
Flow Rate: 0.5 mL/min.
Pressure: 366 bar
Temperature: 25 °C
Injection Volume: 4 μL
Sample Solvent: 84/16 water/acetonitrile
Detection: UV 220 nm, PDA
Data Rate: 40 Hz
Response Time: 0.05 sec.
Flow Cell: 1 μL
LC System: Nexera X2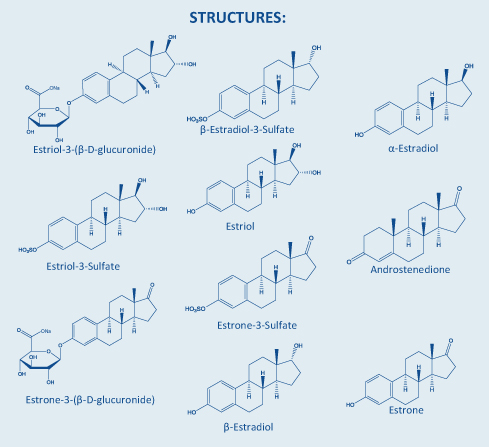 Steroid hormones and hormone conjugates are monitored for a variety of medical reasons. This fast separation of ten estrogens and estrogen-related compounds was accomplished with a HALO C18 column.