SEPARATION OF STEROIDS ON HALO 2 PFP
HALO by AMT
Application n°116-STR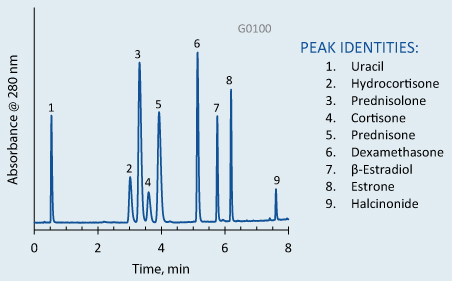 TEST CONDITIONS:
Column: 3.0 x 50 mm, HALO 2 PFP
Part Number: 91813-409
Mobile Phase A: water
Mobile Phase B: methanol
Gradient:
Time (min.) %B
0 47
3 47
8 88
Flow Rate: 0.4 mL/min.
Pressure: 180 bar initial
Temperature: 35°C
Detection: UV 280 nm, VWD
Injection Volume: 2 μL
Sample Solvent: methanol
Response Time: 0.02 sec.
Flow Cell: 2.5 μL semi-micro
LC System: Shimadzu Prominence UFLC XR
ECV: ~14 μL
HALO 2 PFP is useful in the separation of closely related steroids. Even though this separation was run on a system with 14 μL of extra-column volume, there is sufficient efficiency with a HALO 2 column to separate the first four steroids during the isocratic hold at the beginning of the run.