Detection of VOC
Posted:
Wed 18 Apr 2018 17:13
DETECTION OF VOC ON UPTIBOND 624 PREMIUM
UPTIBOND by INTERCHIM
Application n°ITM-20180418-CP
Column: UptiBond 624 Premium (60m x 0.25mm x 1.4µm)
Col. Temp.: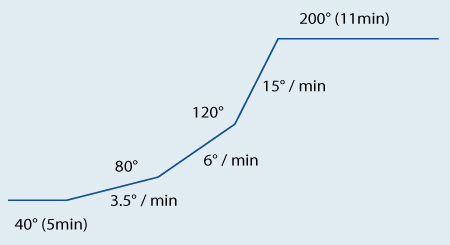 Detection: MS SIM
Sample: 51 Compounds VOC 500 ppt (v/v) + Internal Standard (I.S.) 3 Compounds 500 ppt (v/v)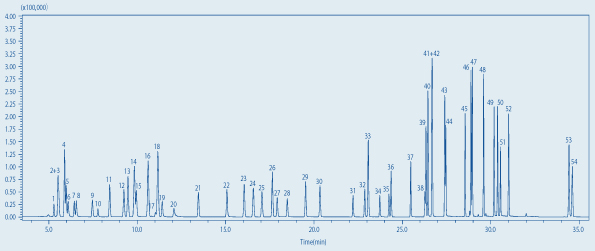 No.
1. HFC-134a
2. CFC-12
3. HCFC-22
4. CFC-114
5. HCFC-142b
6. Chloromethane
7. Vinyl chloride
8. 1,3-Butadiene
9. Bromomethane
10. Ethyl chloride
11. CFC-11
12. Dichlorofluoroethane
13. HCFC-123
14. CFC-113
15. 1,1-Dichloroethylene
16. HCFC-225ca
17. 3-Chloro-1-propene
18. HCFC-225cb
19. Dichloromethane
20. Acrylonitrile
21. 1,1-Dichloroethane
22. cis-1,2-Dichloroethylene
23. Chloroform
24. 1,1,1-Trichloroethane
25. Tetrachloromethane
26. Benzene
27. 1,2-Dichloroethane
28. Fluorobenzene(I.S.)
29. Trichloroethylene
30. 1,2-Dichloropropane
31. cis-1,3-Dichloropropene
32. Toluene-d8(I.S.)
33. Toluene
34. trans-1,3-Dichloropropene
35. 1,1,2-Trichloroethane
36. Tetrachloroethylene
37. 1,2-Dibromoethane
38. Chlorobenzene-d5(I.S.)
39. Monochlorobenzene
40. Ethylbenzene
41+42. m, p-Xylene
43. o-Xylene
44. Styrene
45. 1,1,2,2-Tetrachloroethane
46. 4-Ethyltoluene
47. 1,3,5-Trimethylbenzene
48. 1,2,4-Trimethylbenzene
49. 1,3-Dichlorobenzene
50. 1,4-Dichlorobenzene
51. Benzylchloride
52. 1,2-Dichlorobenzene
53. 1,2,4-Trichlorobenzene
54. Hexachloro-1,3-butadiene