SEPARATION OF BIOGENIC AMINES ON HALO 5 PHENYL-HEXYL BY ION-PAIRING
HALO by AMT
Application n°140-B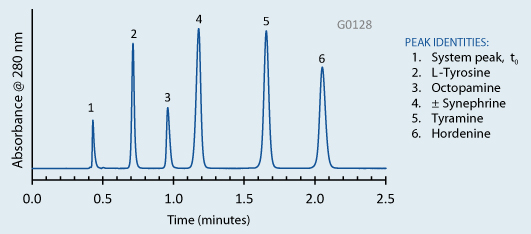 TEST CONDITIONS:
Column: HALO 5 Phenyl-Hexyl, 3.0 x 100 mm, 5 μm
Part Number: 95813-606
Mobile Phase: 78/22 A/B
A= 0.05 M Phosphate buffer, (pH=3.0)
with 2.7 g/L of sodium hexanesulfonate
B= Methanol
Gradient:
Time (min.) %B
0.0 22
4.0 30
Flow Rate: 0.8 mL/min.
Pressure: 170 Bar
Temperature: 30°C
Sample Solvent: 90/10: water/methanol
Injection Volume: 2.0 μL
Detection: UV 280 nm, VWD
Response Time: 0.02 sec.
Data rate: 25 Hz
Flow Cell: 2.5 μL semi-micro
LC System: Shimadzu Prominence UFLC XR
ECV: ~14 μL
These five biogenic amines can be rapidly separated with excellent peak shape on a HALO 5 Phenyl-Hexyl column using a methanol/buffer mobile phase containing an ion-pairing reagent.