HPLC SEPARATION OF HESPERIDIN AND DIOSMIN ON HALO-5 PFP PHASE
HALO by AMT
Application n°084-FL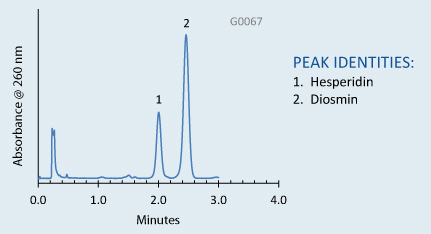 TEST CONDITIONS:
Column: 3.0 x 50 mm, HALO-5 PFP
Part Number: 95813-409
Mobile Phase: 85/15: A/B
A= 0.02 M Potassium phosphate buffer, pH=3
B= Acetonitrile
Flow Rate: 1.0 mL/min.
Pressure: 92 Bar
Temperature: 30°C
Detection: UV 260 nm, VWD
Injection Volume: 0.5 μL
Sample Solvent: Dimethylformamide*
Response Time: 0.02 sec.
Flow Cell: 2.5 μL semi-micro
LC System: Shimadzu Prominence UFLC XR
ECV: ~14 μL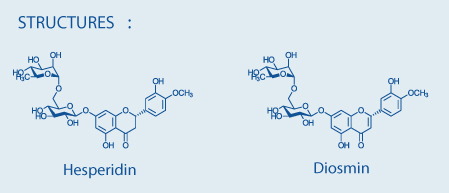 These two semisynthetic flavonoids can be rapidly separated using HALO-5 PFP (pentafluorophenyl) stationary phase at a low pressure. Note that just the addition of a double bond results in a difference that allows these two very similar compounds to be separated.
*Needed for solubility reasons.