SEPARATION OF NSAIDS ON HALO-5 AND TOTALLY POROUS 5 µm
HALO by AMT
Application n°074-NS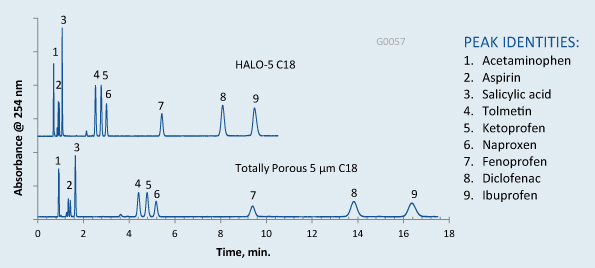 TEST CONDITIONS:
Columns: 4.6 x 150 mm, HALO-5 C18 (Part number: 95814-702) and a 4.6 x 150 mm, 5 μm totally porous C18 column
A = 20 mM Potassium phosphate, pH 2.5
B = 50/50 (v/v) Acetonitrile/methanol
Composition: 48/52: A/B
Flow Rate: 2.0 mL/min.
Pressure:
240 bar on HALO-5 C18
215 bar on totally porous 5 μm
Temperature: 30 °C
Detection: UV 254 nm, VWD
Injection Volume: 2 μL
Sample Solvent: 50:50 Methanol/water
Response Time: 0.02 sec.
Flow Cell: 2.5 μL, semi-micro
LC System: Shimadzu Prominence UFLC XR
Extracolumn volume: ~14 μL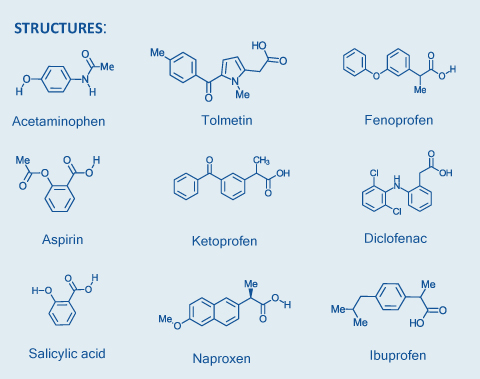 The HALO-5 column separates this mixture of NSAIDs (non-steroidal anti-inflammatory drugs) in less than 60% of the time and with better resolution than a typical HPLC column packed with totally porous, 5-micron particles.