SEPARATION OF ANABOLIC STEROIDS ON HALO 2 C18
HALO by AMT
Application n°129-BZ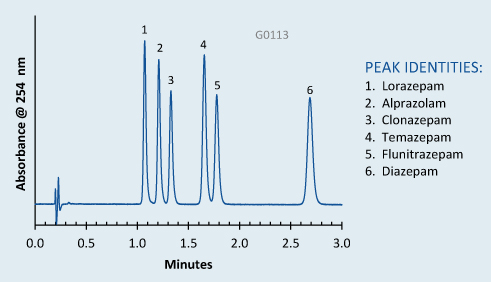 TEST CONDITIONS:
Columns: 2.1 x 50 mm, HALO 2 Phenyl-Hexyl
Part Number: 91812-406
Mobile Phase: 62.5/37.5-A/B
A= Water with 0.1% formic acid/10 mM ammonium formate, pH 3.3
B= 80/20 Acetonitrile/Water with 0.1%formic acid/10 mM ammonium formate
Flow Rate: 0.55 mL/min.
Pressure: 311 bar
Temperature: 35 °C
Detection: UV 254 nm, PDA
Injection Volume: 0.5 μL
Sample Solvent: 30/70-water/acetonitrile
Data Rate: 80 Hz
Response Time: 0.02 sec.
Flow Cell: 2 μL micro cell
LC System: Agilent 1200 SL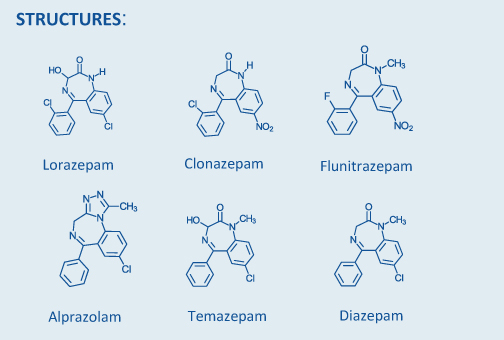 These six benzodiazepines are baseline resolved on a HALO 2 Phenyl-Hexyl column. The π-π interactions between the Phenyl-Hexyl phase and these anti-anxiety drugs help to enhance the separation.