SEPARATION OF ANABOLIC STEROIDS ON HALO 2 C18
HALO by AMT
Application n°120-F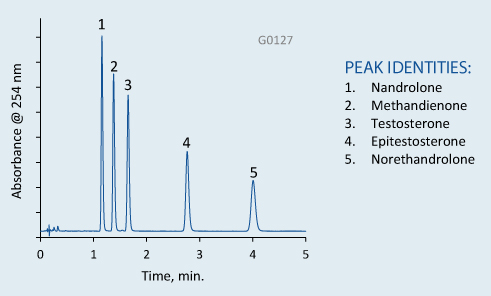 TEST CONDITIONS:
Column: HALO 2 C18, 2.1 x 50 mm, 2 μm
Part Number: 91812-402
Mobile Phase: 70/30 water/acetonitrile
Flow Rate: 0.8 mL/min.
Pressure: 476 bar
Temperature: 40°C
Injection Volume: 2 μL
Sample Solvent: 37.5/62.5 water/organic solvent
(acetonitrile, methanol, and 1,2-dimethoxyethane)
Detection: UV 254 nm, PDA
Data Rate: 80 Hz
Response Time: 0.02 sec.
Flow Cell: 2 μL micro cell
LC System: Agilent 1200 SL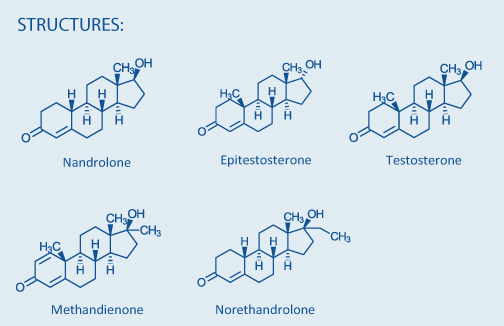 Screening for steroid use is common in both sports and medicine. These five anabolic steroids are separated in less than 5 minutes using a 2-micron HALO 2 C18 column.