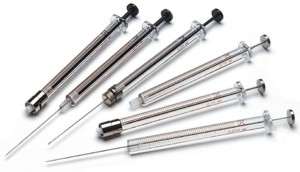 Syringes
For analytical gas and liquid applications, make life easier in your lab with our high quality syringes!
All that you have to do is take your pick from our various brands.

Benefit from brands such as Hamilton, SGE, Precision Sampling, Exmire for general syringes.
And make the most of Agilent, Perkin Elmer, Thermo syringes dedicated to auto samplers.

To make life in your lab even easier, our technical team can help you find the best solution.