StarFish™ Multi-Experiment Work Station - The space saver

---
Improve the productivity of your chemistry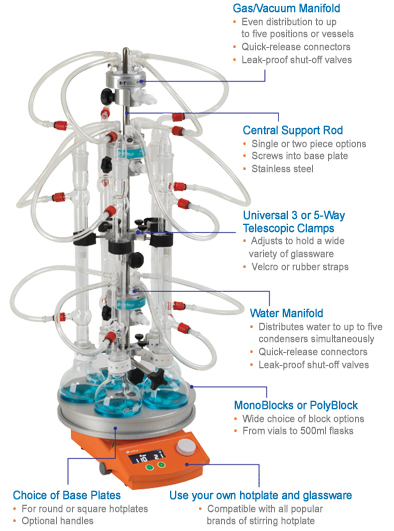 What are the Benefits?

Space saving - uses less space than multiple heating and stirring set-ups.

Increases productivity with multiple positions allowing you to heat, stir and reflux experiments in parallel.

Cost effective - use your existing stirring hotplate and glassware. Eliminate the cost of multiple set-ups.

Safer, cleaner working.Eliminate oil baths, reduce spills, mess and accidents.

Flexible - use as many positions as you want.

Easy to use and quick to assemble.



StarFish - for popular heating and stirring applications
Synthesis, distillation, extraction
StarFish Applications
Whether you want to heat and stir, or perform more complex experiments, StarFish really can make your life easier and improve productivity.
StarFish has proven popular in the following laboratories:

Synthesis
Distillation
Extraction
Suitable for standard round
bottom flasks from 5ml to 500ml,
as well as 1 inch and 24mm
boiling tubes. Hold condensers
up to 70mm in diameter.
Configure for all common types
of distillation including; binary
and multi-component, vacuum, fractional and azeotropic methods.

Replace large, inflexible extraction apparatus. Using standard round bottom flasks from 5ml to 500ml and glassware assemblies for soxhlet, liquid-liquid, reverse liquid-liquid and reflux extraction methods.
StarFish - modular and versatile
Use your existing hotplate and glassware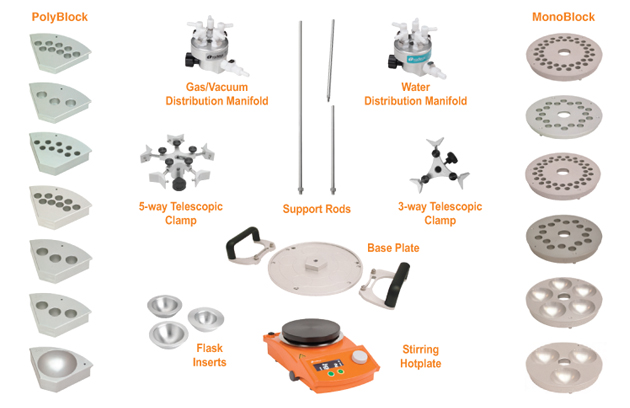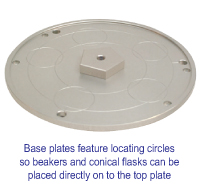 Base Plates - for round or square hotplates
StarFish base plates fit securely on all popular brands of stirring hotplate with both round or square top plates and are designed to maximise thermal contact with the heated top plate.
Lifting handles - insulated
Optional insulated handles can be screwed to the base plate,


allowing the safe removal of the base plate from the hotplate whilst still hot.
Support rods - stainless steel
Stainless steel 12mm ø x 650mm long. Rods screw directly into base plate.

StarFish - for vials, test tubes and flasks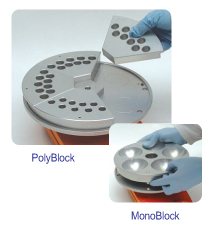 Mix'n'match the components you need, when you need them
MonoBlocks and PolyBlocks

Chemical resistant anodised aluminium for rapid heating of vials, tubes and flasks up to 260ËšC

MonoBlocks are single blocks with multiple wells all of the same size.

PolyBlocks are smaller segments that can be mixed to accommodate any combination of vessel (5 per StarFish).

All blocks are stackable to maximize lab space, have a 3.5mm hole for a temperature probe and are individually labelled for easy identification.
Reducing inserts for flasks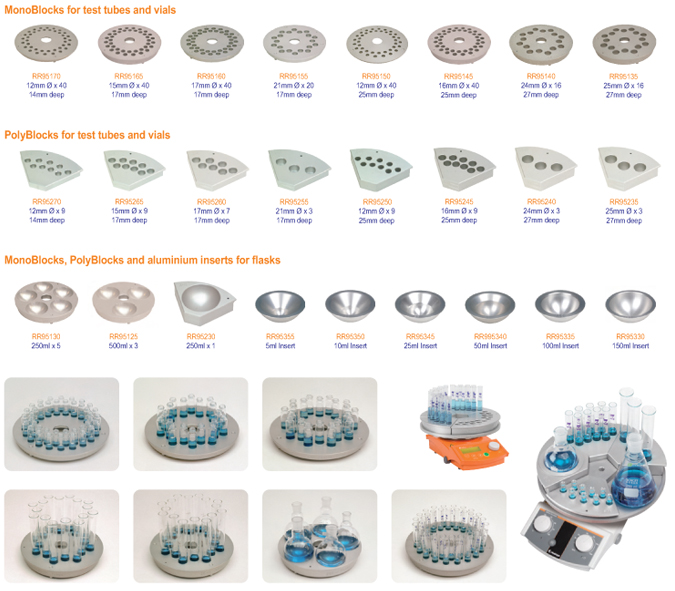 StarFish - manifolds and clamps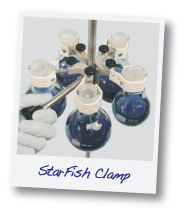 Manifolds provide quick, convenient and tidy water/gas connections
What are the Benefits?

Make the connection of water or gas/vacuum to multiple vessels quick and easy

Manifolds can be used independently of StarFish

Screw-tightening allows location of manifolds in any position on a standard 12mm ø support rod

Quick-release gas/fluid connectors

Leak-proof shut-off valves close when the couplings are parted
Base Plates - for round or square hotplates
Allows coolant from a single source to be evenly distributed to up to five condensers and then re-combined to one outlet pipe. Two manifolds are used in each set-up.
Gas/vacuum manifold
Allows gas or vacuum from a single source to be evenly distributed to up to five positions or vessels. (Does not control or regulate gas/vacuum flow)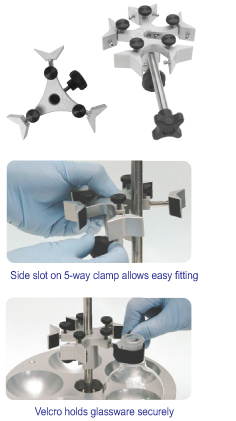 Universal Clamps
3 and 5-way Universal Clamps are designed to safely support flasks, condensers and other glassware.
They feature adjustable telescopic arms and flexible straps to hold glassware.
Designed to be raised or lowered with glassware in-situ

Choice of Velcro or rubber supporting straps

Rubber straps grip glassware from 15 to 70mm in diameter - ideal for lifting vessels

5-way clamp features a slot which allows it to be located on to the support rod from the side

Velcro straps are designed specifically not to grip glassware tightly, allowing condensers to slide through the strap, whilst still being safely restrained

Optional Viton rubber straps offer superior chemical resistance
How do the clamps work?
Grip the flask neck with a rubber strap on the lower clamp for lifting, whilst the condenser above slides through the Velcro strap on the upper clamp.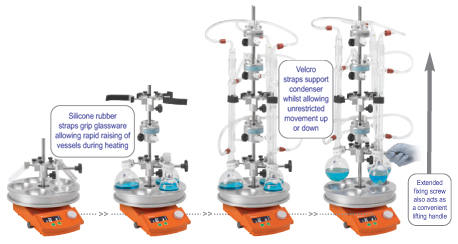 StarFish - accepts standard glassware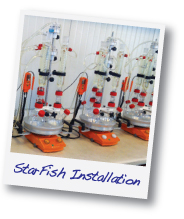 Versatile design holds glassware of different sizes and shapes
Accessory Glassware
StarFish blocks are designed to accept standard laboratory glassware

For your convenience we offer a range of standard glassware

StarFish will also accommodate glassware from the Radleys' Carousel 12 Plus, 6 Plus and GreenHouse Plus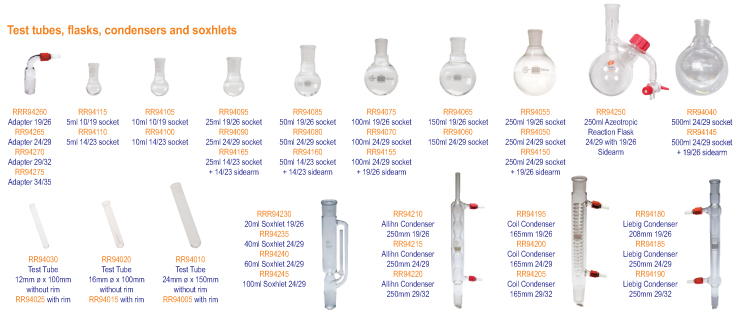 PTFE Magnetic Stirring Bars

"StarFish delivered a simple and versatile alternative to five individual heating mantle set-ups, improving the student experience and making better use of laboratory facilities and space." Alan Hague, University of Bradford