UptiSpin™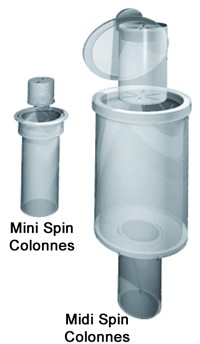 UptiSpin™ Protein A and UptiSpin™ Protein G
Uptispin™ centrifugal columns are one of the simplest means to purify antibodies from serum, ascites and tissue culture supernatant. UptiSpinTM columns achieve high recovery of pure antibodies in minutes.
Fast, convenient and easy to use
Cost effective : less than 1 Euro to purify 1 mg
Efficient : Proteins are sufficiently pure for further applications.
UptiSpinTM Protein A & G kits are designed for simple, rapid and multiple antibody purification from serum, ascites & tissue culture supernatant derived from static cultures & bioreactors.
Exist in 2 sizes: mini and midi kit