Solide Phase Extraction (SPE)
There is no room for chance in the success of your Solid Phase Extraction, just products with the highest standards.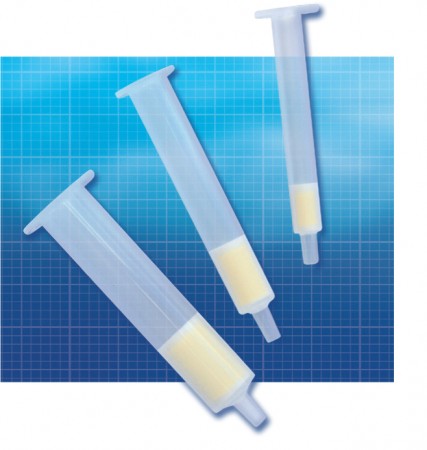 Easy and Flexible, Solid Phase Extraction continues to be the fastest growing technique used for sample preparation to clean and concentrate samples prior to analysis in HPLC, HPLC/MS, GC or GC/MS.

While sample cleaning quality is the key preliminary requirement for the success of your analytical process, recovery, capacity, selectivity & reproducibility are the main requirements for sample preparation.

To help you reach the highest standards, we have developed a state-of-the-art SPE product range incorporating silica and polymer based technology: Upti-CleanTM & RecoveryTM (silica); AtollTM (PSDVB based); PolyCleanTM & BioPTM (Hydrophilic/Hydrophobic polymers).

Moreover, with Interchim's Accurate Bed TechnologyTM, we are pushing the boundaries of expectations from modern day sample preparation challenges with +/- 1% accuracy weighting sorbents and very low particle size dispersion enabling less clogging and an optimum bed density to obtain optimum recovery as required.

And if, like us, you don't rely on luck but only on performances, carry out your SPE with our accessories: vacuum manifolds, tubes, frits and caps.
Advantages
SPE can treat a wide range of samples
From 50µl up to > 1L within a wide range of matrix.
Effective Clean-up & Concentration of dirty and dilute samples
Saves time, ensuring reproducible results vs liq/liq & solid-liq extraction
Methods can be automated
Spherical Pure Sorbents perfectly reproducible, no needs to reserve columns batches
Silica & Polymer based high capacity sorbents with wide range of selectivity
Accurate Bed TechnologyTM: weighted sorbents (+/- 1%) to ensure reproducible and optimal recovery
Fully fits with UHPLC needs