Selection Guide

---

This chart provides general guidelines on filter characteristics and applications to assist with the choice of appropriate device and membrane.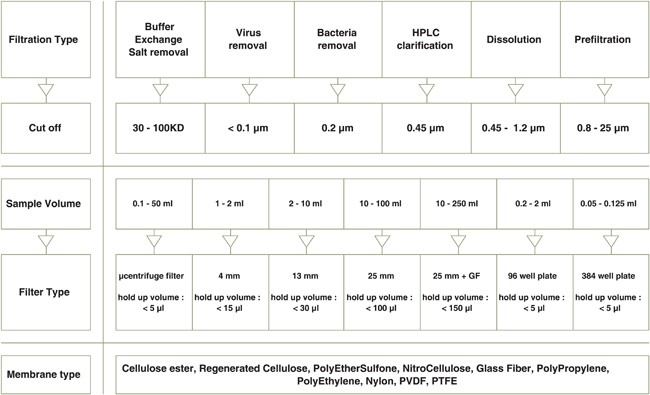 Regenerated cellulose (RC)
Hydrophilic membrane that has the same properties as cellulose acetate but stable with most HPLC solvents.
This membrane is used for HPLC solvents, degassing, and filtration and is compatible with aqueous samples in a pH range from 2 to 12. With a non specific low protein binding, this membrane is chosen for protein filtration when maximum yield of recovery is needed.

Mixing of cellulose esters (MEC)
Ideal hydrophilic membrane for the filtration of aqueous samples,with low solvent resistance. A Glass pre-filter membrane is used for tissue culture media filtration, biological sample filtration, as clarification and sterilization of aqueous samples.
Very low protein binding (binding < PVDF, PS), the Glass prefilter increases filtrate volume yield by 3.

Nylon and Nylon Low Extractables (LE)
Commonly used for HPLC samples filtration prior to injection, with good solvent resistance. Having hydrophilic properties, it gives good results with aqueous samples. Should not be used when maximum protein recovery is important.

Polypropylene (PP)
High resistance, may be used with virtually all solvents, acids and bases.

PVDF
Hydrophilic membrane with a good solvent resistance. Ideal for filtration of HPLC mobile phase solvents.

PTFE
Hydrophobic membrane chemically resistant to solvents, acids, bases. This membrane is ideal for filtration of chromatography solvents, with no extractables due to the PTFE membrane.

Glass Fiber (GMF or GF)
Commonly used as prefilter for most filtration devices. Typically used for crude samples and used for the cleaning and purification of DNA.

PES
Hydrophilic membrane with a very low binding for proteins and nucleic acids. Good flow rate characteristics and strong membrane mechanical resistance. Mainly dedicated to cell culture filtration. Compatible with alcohols and strong bases.

Nitrocellulose
Hydrophilic membrane recommended for aqueous sample clarification and filtration as MEC membranes.
Chemical compatibility of membranes
Membrane Type
Legend
Nylon: Polyamide
PTFE: Polytétrafluoroéthylène
PVDF: Polyvinylidene difluoride
PES: Polyethersulfone
MEC: Cellulose Esters
RC: Regenerated cellulose
PP: Polypropylene
GF: Nylon
C: Compatible
LC: Limited compatibility
NC: Not compatible
ND: No data available
Chemical
Nylon
PTFE
PVDF
PES
MEC
RC
PP
GF
Acids
Acetic, Glacial
LC
C
C
C
NC
C
C
C
Acetic, 25 %
C
C
C
C
C
C
C
C
Hydrochloric, Concentrated
NC
C
C
C
NC
NC
C
C
Hydrochloric, 25 %
NC
C
C
C
NC
NC
C
C
Sulfuric, Concentrated
NC
C
NC
NC
NC
NC
C
C
Sulfuric, 25 %
NC
C
C
C
NC
LC
C
C
Nitric, Concentrated
NC
C
C
NC
NC
NC
C
LC
Nitric, 25 %
NC
C
C
C
NC
NC
C
LC
Phosphoric, 25 %
NC
C
ND
ND
C
LC
C
ND
Formic, 25 %
NC
C
ND
ND
LC
C
C
C
Trichloroacetic, 10 %
NC
C
ND
ND
C
C
C
ND
Alkalies
Ammonium Hydroxide, 25 %
C
C
LC
C
C
LC
C
C
Sodium Hydroxide, 3 Normal
C
C
C
C
NC
LC
C
ND
Alcohols
Methanol, 98 %
C
C
C
C
C
C
C
C
Ethanol, 98 %
C
C
C
C
C
C
C
C
Ethanol, 70 %
LC
C
C
C
LC
C
C
C
Isopropanol, n-Propanol
C
C
C
C
C
C
C
C
Amyl alcohol, Butanol
C
C
C
C
C
C
C
C
Benzyl Alcohol
C
C
C
ND
LC
C
C
NC
Ethylene glycol
C
C
C
C
C
C
C
C
Propylene glycol
C
C
C
C
LC
C
C
C
Glycerol
C
C
C
C
C
C
C
C
Hydrocarbons
Hexane, Xylene
C
C
C
C
C
C
NC
C
Toluene, benzene
C
C
C
C
C
C
NC
C
Kerosene, Gasoline
C
C
C
C
C
C
LC
ND
Tetralin, Decalin
ND
C
C
C
C
C
ND
ND
Halogenated Hydrocarbons
Methylene Chloride
LC
C
C
NC
NC
C
LC
C
Chloroform
C
C
C
NC
C
C
LC
C
Trichloroethylene
C
C
C
NC
C
C
LC
C
Monochlorobenzene, Freons
C
C
C
LC
C
C
C
C
Carbon Tetrachloride
C
C
C
NC
LC
C
LC
C
Ketones
Acetone, Cyclohexanone
C
C
C
NC
NC
C
C
C
Isopropylacetone
C
C
NC
NC
C
C
ND
C
Methyl Isobutyl Ketone
ND
C
LC
NC
ND
C
LC
C
Esters
Ethyl Acetate, & Methyl Acetate
C
C
C
NC
NC
C
LC
C
Amyl, Propyl & Butyl Acetate
C
C
ND
NC
LC
C
LC
C
Propyl Acetate
C
C
NC
NC
LC
C
LC
ND
Propylene Glycol Acetate
ND
C
ND
NC
NC
C
C
ND
2-Ethoxyethyl Acetate
ND
C
ND
NC
LC
C
ND
ND
Methyl Cellosolve Acetate
ND
C
ND
NC
LC
C
ND
C
Benzyl Benzoate
C
C
ND
NC
C
C
ND
ND
Isopropyl Myristate
C
C
ND
NC
C
C
ND
ND
Tricresyl Phosphate
ND
C
ND
NC
C
C
ND
ND
Oxides - Ethers
Ethyl Ether
C
C
C
C
C
C
C
C
Dioxane & Tetrahydrofuran
C
C
LC
NC
NC
C
ND
C
Triethanolamine
C
C
LC
NC
NC
C
ND
ND
Dimethylsulfoxide (DMSO)
C
C
NC
NC
NC
C
C
C
Isopropyl Ether
ND
C
C
C
C
C
C
ND

Solvents with Nitrogen
Dimethyl Formamide
LC
C
NC
NC
NC
LC
C
C
Diethylacetamide
C
C
ND
ND
NC
C
ND
C
Triethanolamine
C
C
ND
ND
C
C
ND
ND
Aniline
ND
C
ND
ND
NC
C
ND
ND
Pyridine
C
C
C
NC
NC
C
LC
C
Acetonitrile
C
C
C
LC
NC
C
LC
C
Miscellaneous
Phenol, Aqueous, 10 %
ND
C
LC
NC
NC
NC
C
C
Formaldehyde Solution, 30 %
C
C
C
C
C
LC
C
C
Hydrogen Peroxide, 30 %
C
NC
ND
ND
C
C
ND
ND
Silicone Oil & Mineral Oil
ND
C
C
C
C
C
C
C
Pyridine
C
C
C

-

NC
C
LC
C