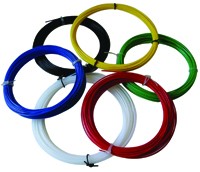 Tubing
Looking for high quality tubing?
You are sure to find the tubing for you from our wide range of chromatography tubing!

We offer outstanding chromatography grade tubing made of PTFE, ETFE, Nylon, Tygon, SS, Copper, Hastelloy, etc. with ODs of 360µm, 1/32 ", 1/16", 1/8" and ¼".

In addition, SS and PEEK tubings can be ordered in reels, in economical pre-cut standard lengths or can be custom-cut to meet your specific instrumentation requirements. These tubes are cut with square, burr-free ends for zero dead volume connections.