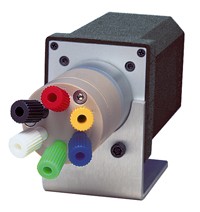 Valves
To ensure the success of your HPLC or GC applications, and for your peace of mind, you need the best valves!
For this reason, we have selected Valco/Cheminert valves for optimum lifetime and compatibility.

They are suitable for all your most demanding HPLC or GC applications.
Typical applications include sample injection, backflushing, and column switching.
Moreover, Manual, pneumatic or electric actuations are available.

Additionally, we supply a wide range of IDEX (Rheodyne) HPLC valves.