puriFlash® Dry-load

Dry-load columns for solid deposits allow the injection of a raw sample insoluble (or soluble) in the mobile phase.
Compared to liquid injection, the solid deposit avoids the diffusion of raw sample in the purification column. It improves the resolution, the efficiency and the purity of the products collected.
The solid deposit that can be made with silica, C18 or Celite. Unlike open cartridges, it does not require the use of a piston or of specific adapters.
The max. pressure is 2x the standard solid deposit cartridges.
They are compatible with the use of Interchim® 15µm puriFlash® columns.

Luer lockInlet & Outlet

4g to 300g Dry-load

Compatible with all flash purification systems
Dry-load Injection
The dry-load injection is a convenient technic when the polarity of the reactional mix (or the extract) to purify is close to the polarity of stationary phase or, when it contains solutes with extreme opposite polarity.
It should also be consider when:
the compound of interest is a lot more retained than the other compounds we would like to separate.
the sample contains one or several compounds having low solubility with the eluent.
Compare to liquid injection, the dry-load injection improves the efficiency, the resolution, and the final purity.
Sample in solution

Injection Loop

Limited injection volume

due to sample solubility

Solid sample


Dry injection High pressure dry-load



Allow to large sample amounts
How to prepare the Dry-load cell for injection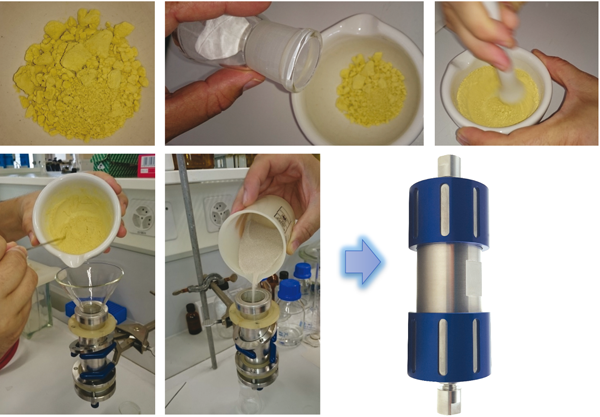 1. Adsorb the dissolved sample in a "better solvent" on a small amount of stationary phase (Silica, C18 or Celite).

2. Evaporate the deposit solvent with a rotary evaporator until a "dry" powder is obtained. (If the volume of the dissolved sample is small, it can be poured onto the silica, and the partially impregnated silica mixed up to obtain a homogeneous dry powder, thus avoiding the passage to the rotary evaporator).

4. Place the mixture over the inlet frit of the column, once it has possibly been equilibrated with the elution solvent.

5. Add a sintered frit over the mixture, then a closure system or the piston of the column (for equipped systems) and tamp the mixture slightly to obtain a perfectly homogeneous deposit thickness.

6. Proceed with elution.
Technical tips
The volume of the dry-load must not exeed 5% to 10% of the purification column volume to keep sufficient resolution between fractions.
If possible, wet the dry-load with 100% of the less eluent solvent before to start the purification run.
Caution : Adapt your step in function of the back pressure and the acceptable flow rate.
The dry-load can generate air bubbles creating disruptions that hide the first peaks. (UV detector).

Celite exhibit advantages:
It does not generate back pressure due to its large particle size
It does not interact with the compounds that arrive at the same time at the top of the column
It improves separation and are compatible with both NP and RP mode