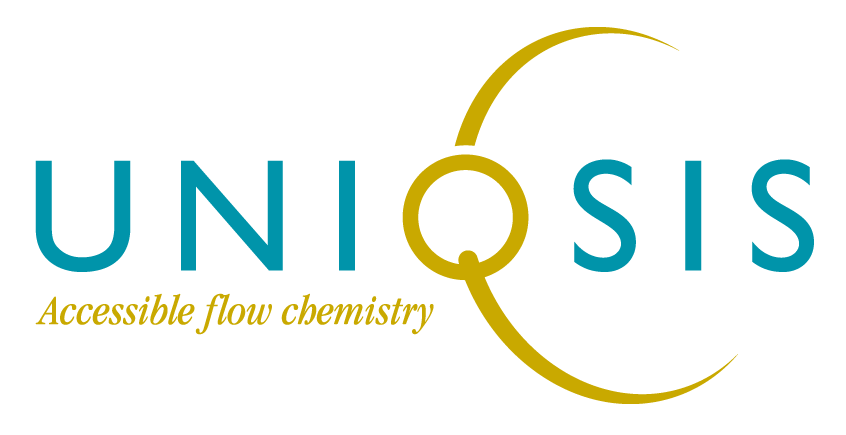 FlowSyn
Your flexible research tool

Configuration options
FlowSyn
FlowSyn PTFE
FlowSyn Steel
FlowSyn Hastelloy®
Flow Path
PEEK and PTFE
All PTFE
PTFE* and 316
Stainless Steel
PTFE* and Hastelloy®
Pmax /psi
1000
300
1400
1400
Tmax /°C
Coil/Column
+260/+150
+150
+260/+150
+260/+150
Chemical Resistance
Good
Excellent
Very Good
Excellent
*Note PTFE is only used for low pressure components in the flow path in these configurations.
FlowSyn in Detail
A fully integrated, easy to use continuous flow reactor
Reagent Delivery
Choose your method of reagent/solvent delivery - bottles or loops
Reagent solutions can be delivered from bottles (for continuous processing) or sample loops (for small scale, plug flow reactions).

Selection valves
For switching between reagent solutions and cleaning solvent.

Chemically resistant sample injection valves
The bespoke sample injection valves offer high chemical resistance to concentrated mineral acids such as nitric and sulfuric acids. The valve
has been specifically designed with 1.0mm internal channel diameter to
minimise the risk of blockages.

Pumps, Priming and Pressure
Two independent flow channels driven by chemically resistant high-pressure pumps
FlowSyn pumps have been specially modified to improve chemical resistance (no PEEK!). These chemically inert high-pressure pumps deliver total flow rates adjustable from 0.01 to 20.0ml/min. FlowSyn automatically monitors
each high-pressure reagent channel and will alert the user if there is an air bubble or inconsistent pumping during an experiment. If the situation is not resolved within 60 seconds, FlowSyn will abort the experiment.

Convenient dedicated priming ports
FlowSyn pumps can be easily primed without disconnecting any fittings, and the system itself purged of air using the dedicated 'Prime' function.

Back pressure regulator
FlowSyn uses interchangeable, fixed back pressure regulator cartridges to maintain constant pressure during an experiment.

Reactor Modules
Coil Heater
The electronically controlled coil heater module has been designed for fast heat up. Reactor temperature is calibrated for accurate temperature control that is consistently maintained throughout the whole reaction.

Glass insulated cover
Allows use of different sized reactors
Maximum temperature +260°C
Column Heater
Adapts for columns of different sizes.
Maximum temperature +150°C
Also houses glass mixing blocks
Can be liquid or gas cooled
Gas-cooled heat exchanger
Allows you to pre-heat reagents prior to entering column.

Allows you to cool product solutions below the solvent boiling point before exiting the pressurised reaction – essential when performing reactions above the boiling point of the solvent (superheating).
FlowSyn Control Interface
FlowSyn has an in-built graphical control interface making it very easy and quick to set up reactions.
| | | |
| --- | --- | --- |
| | | Configuration – When setting up the reactors, FlowSyn will automatically set maximum pressure and temperature limits based upon the materials the reactors are made from. |
| | | All components (pumps, reactors and valves) can be independently controlled from within the Manual Control screen. In this way, pumps and reactors can be quickly primed before starting any reactions. |
| | | Automated Control – Set up a reaction in minutes. FlowSyn will do the calculations for you, e.g. set the reaction time and FlowSyn will work out the flow rate. |
| | | To ensure consistent and reproducible results, FlowSyn equilibrates to reaction temperature using system solvent before allowing any reagent solutions into the reactor(s). |
| | | When up to the desired temperature, FlowSyn introduces the reagents, and the reaction begins. Throughout the reaction you can see the progress. At the end of the reaction FlowSyn will automatically wash the whole flow path with clean solvent. |