ACROBiosystems is an internationally recognized manufacturer of recombinant proteins committed to support cancer immunotherapy.
They specialize in mammalian cell-based recombinant protein production and process development to support professionals from pharmaceutical companies, CROs and research institutes, providing high-quality proteins, antibodies and assay kits.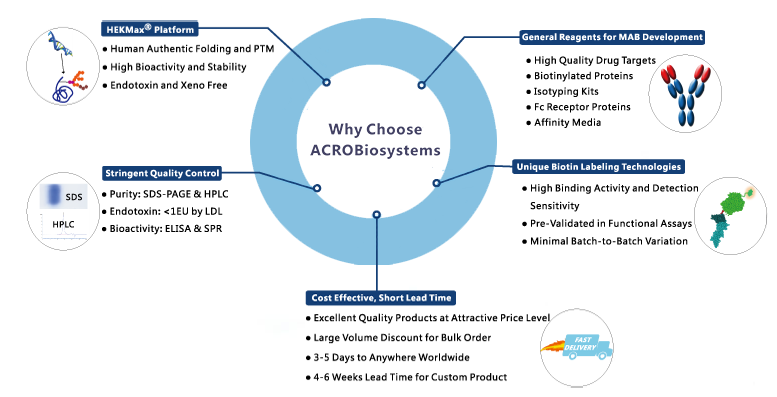 Core Technologies
Proprietary HEK293 expression platform with strict animal-free and xeno-free conditions.
In-house developed enzymatic and chemical biotin labeling technique with optimized bioactivity and labeling ratio

Featured Brand
The MABSol® brand products cover every step of the antibody drug development pipeline:
Diverse antigens for injection and selection
MABSol® Biotin Labeled Proteins for assay, immuno-capture and quantitative analysis
MABSol® Five-Minute MAB Isotyping Kits for antibody isotyping, purification media
MABSol® Fc Receptors for antibody optimization
ActiveMax® brand is dedicated to highly characterized biological activity (besides protein identity, endotoxin,…).


Key Product Lines and Customized Services
Immune Checkpoint Proteins
MABSol® Biotin Labeled Proteins
MABSol® Fc Receptors
MABSol® Five-Minute MAB Isotyping Kits
MABSol® Inhibitor Screening Kits
MABSol® Affinity Media Ligands
ActiveMax® Cytokines
Drug Target Proteins
CD Antigens
Viral Proteins
Mammalian Cell RPP Services
Custom Biotinylated Protein Generation Services
Stable Cell Line Services
Process Development Services