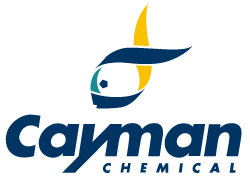 Cayman Chemical´s mission is to help make research possible by supplying scientists worldwide with the basic research tools necessary for advancing human and animal health across a wide range of research disciplines such as inflammation, neuroscience, lipid biochemistry, cancer, oxidative injury and endocrinology.

Over the past thirty years, Cayman developed a deep knowledge base in lipid biochemistry, including research involving the arachidonic acid cascade, inositol phosphates, and cannabinoids.

In particular, the company specialises in the development of high performance assay kits, high quality biochemicals and antibodies. They also offer a wide range of analytical services using LC-MS/MS, HPLC, GC, and many other techniques.

Interchim supplies all Cayman Chemical products in France. Do you need a special size? A bulk quantity? Don't hesitate to contact us.

Major Product Lines from Cayman Chemical:
Apoptosis
Endocrinology
Neuroscience
Oxidative Stress
Prostaglandins
Epigenetics
Eicosanoids
Best sellers Assay kits

EIA assays
Cayman enzyme immunoassays (EIA) rely on the acetyl cholinesterase - AChE® technology (CEA patent).

AChE® offers several advantages over other enzymes conventionally used in EIAs such as :
Kinetic superiority and high sensibility
AChE® shows true first-order kinetics with a turnover of 64,000 sec-1.
That is nearly 3 times faster than HRP or alkaline phosphate. AChE® allows a greater sensitivity than other labelling enzymes.
Low background
Non enzymatic hydrolysis of acetylthiocholine substrate in buffer is essentially absent. So, AChE® allows a very low background and an increased signal/noise ratio compared to other enzyme substrates which are inherently unstable.
Wide dynamic range
AChE® is a stable enzyme and its activity remains constant for many hours as, unlikely to other enzymes, its substrate is not suicidal. This permits simultaneous assays of high diluted and very concentrated samples.
Versatility
AChE® is a completely stable enzyme. Thus, if a plate is accidentally dropped after dispatch of the AChE® substrate (Ellman's reagent), one only needs to wash the plate, add fresh Ellman's reagent and proceed with a new development.

Access to all Cayman Chemical's Assay kits