StormTM Heating/Cooling Work Station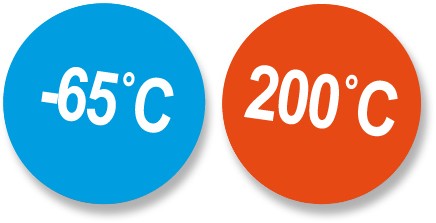 Combined with a suitable circulator, Storm can provide controlled steady state heating and cooling...
Storm was designed as an add-on module for the Carousel 6 and Tornado combination, creating a powerful "Parallel Process Reactor" that heats and cools, mechanically stirs up to 6 flasks (50ml to 250ml), making it the ideal process optimisation and development tool.
Features...
Create a single or parallel stirred reactor with controlled heating/cooling from 5ml to 5litres.
Thermofluid range of -85°C to +235°C ; providing a solution temperature -65°C to +200°C.
135mm ø top plate integrates with the Carousel6, Tornado, Heat-On & other reaction blocks.
Ideal for temperature controlled steady state reactions.
Unique internal design maximises heat transfer from the thermofluid, focussing the energy towards the top plate surface. This design also minimises temperature variation across the contoured topplate.
The insulated outer case reduces heat loss and prevents the user from coming into contact with the extreme temperatures of the internal thermofluid.
Mechanical stirring provided by Tornado or suitable over head stirrer.
M24 hose connections, suitable for all popular brands of circulator or thermoregulator.
Typical heating & cooling profiles for Storm...
The following temperature profiles demonstrate the cooling and heating power of Storm when combined with a Huber 705 thermoregulator and a Carousel 6 Reaction Station.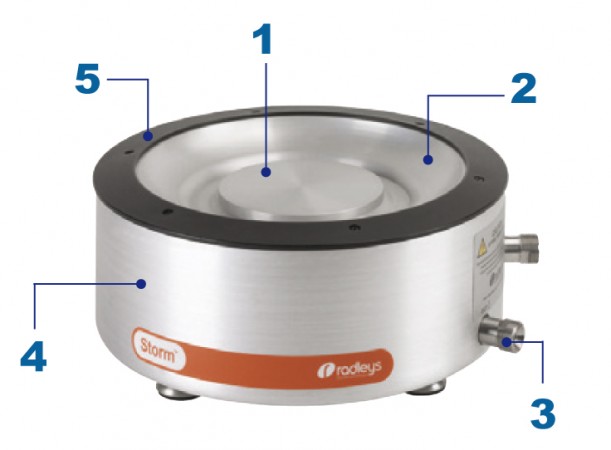 1: Unique internal design focuses the thermofluid towards the top plate surface.
2: Contoured inner surface accepts Carousel 6 base precisely.
3: M24 hose fittings (adapters available).
4: Insulated outer case ensures efficient operation with minimum heat loss and maximum safety.
5: Fluoropolymer splash guard is chemically resistant and prevents heat transfer from block
to insulated outer case.